I watched the entire game yesterday, those colors are beautiful in

HD

TV, what a pretty red! My heart drifted off a little bit...
I've been thinking about it
since last week...
Why not get out of state for school? Lets experience something way different...Where we wanted to go, how would we choose, has been all we talk about. I was all for Arkansas only for the cutest little girl ha!
What about Georgia? Its the state we spend the most time playing with the idea of and no matter what other states and schools we think of, its been ending up with what about Georgia.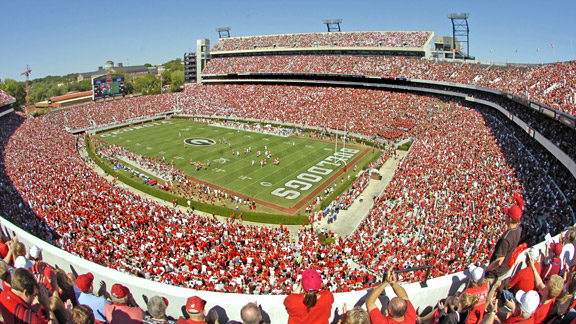 Its a lovely place that seems like it would be nice to settle into. I want to go to a good, big college where I have a team to root for. That much school spirit, how fun. Sure I could go to Michigan..Utah..Texas, wherever I want really. But what about the south? A close feeling town with church and friendly people. SEC? The most important people, family and boyfriend, think its a great idea wherever, so I'm super excited. I

haven't

ruled out other options/made a decision but every time I turn on the computer I look for something Georgia. If anyone knows of any Georgia

blogspots

or sites with good info I'd love to know them.
I know it wouldn't take long at all to turn my man into a Bulldog fan. I know he would love for me to go be a Mountaineer but I'd be way more excited to hopefully become a Bulldog! Either Fall next year or Spring 11 semester. I just need to really work on bringing up my GPA some more ha! Anyway, its a good church & football Sunday for us, mixed with a littleton of laundry and studying. Have yourself a good one...
(p.s. I've also been saying what about Ohio?!)