Top 2 Tuesday @
Taylor's
!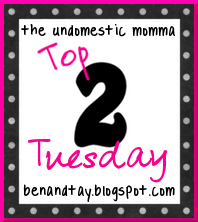 This weeks another fun one,
Top 2 Favorite Magazines:

#1. Cosmopolitan. This mag has taken a backseat since I've been

addictedto

blogging lately. I like whoever is on the cover usually and I've found some pretty good recipes and tips! Sometimes theres alot of stuff I don't read though.
#2: Glamour. Just got this months and I'm saving the LC article for a rainy day ;) Glamour always has the cutest clothes in their spreads. Their always talking about freebies you can get online but I never check them out. Its a good buy though and definitely a favorite!

I used to be really crazy about Cosmo, like counting down and thinking to myself when does the next issue come out. But that was in no particular order...I don't know when but I'll be by to check out your favorites! Did anyone else have trouble deciding on this topic? Lucky, Real Simple, not to mention the gossip mags like Life&sStyle & UsWeekly! I don't know about you but theres so many mags I like to flip through! Better Homes, Family Circle, Allure..OK ok I'll stop ;)