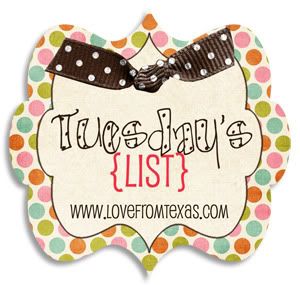 Fall Fashion & Accessories.
Boots. On the top of many favorite lists I assume because there are so many cute pairs out the
re! My VS shoes & accessories catalogue for example. I loveeee mine! (focus on boots please excuse cats paws and my toes) With dresses, jeans, tights...They are perfect...It hasn't been too cold out lately but when it is, I break out the old faithful Uggies. =) Yes that's what I call them.

Zip up sweaters. Simple I know, but not boring-I have been finding cute ones everywhere. Old Navy had a great striped one and another I bought from Target is turning into a favorite.
Beanies. Not on me, no! J is hot stuff in his and I am always trying to convince him to wear it! Ha!
Scarves. & For some reason they look better on everyone els
e! All the ladies I've seen wearing them look great, but for some reason it takes me forever to give myself the 'outfit OK' when wearing one. But I have a black&white check print that I'm trying to breakout.
Tuesdays list is from this adorable
blog
that I have been lurkinglooking at...She has this fun Tuesday list thing and some yummy sounding recipes too.
I wish I had more time and energy to list other fall faves, but I am really exhausted! Class, work, no dinner, loooonnggg night class and really no time in between, kicked my butt! I cant wait to sleep but am sad J has to leave early I'll be cold in the a.m without him to cuddle :( Speaking of J, he made me stop typing to watch the Avatar commercial. Looks OK from the previews? I don't know! Nite!