"It's Free Therapy Day!! That's right, it's Thursday, which means it's the Thank You Very Much day. The way it works is that you take out all your frustrations on people/things that peeved you off during the week and thank them in a very sarcastic way, for being who or what they are/doing what they did."
Then go to
Kmama's
and link up and be lovely. Im a first timer to this "Thank You Very Much" deal but it sounds like something I can handle!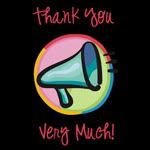 To BF- who asked me if I wanted a snack and smiled when I said TWO toaster strudels. Thank you very much for bringing me back warm on the outside, still cold in the middle strudels. What the heck? Is it that hard to toast a pastry. He said he would go back & toast them some more. Get rid of the cold filling. Great idea?
Do burnt, charred toaster strudels taste any better than cold on the inside ones? No they don't thank you very much!
Another one to my love: Since being your girlfriend, I've had to make our bed a million times more than I ever had to make it when it was only me sleeping in it. I had a way of sleeping where I didn't have to completely remake the bed each morning, but you don't. For your crazy sleeping habits that leave me always struggling to retuck the sheets and comforter, I thank you very much.
To the ever "clean" dog- However you managed to get pee on your adorable white shirt I left you in, thank you very much, puppy pee pee shirt, that is exactly what I want to be dealing with.
To my eyebrow and leg hair- You know Im gonna hate you forever. Please just stop growing, that would be even more than nice, thank you very much.