My first time joining in on Top 2 Tuesday's over at Jimmy Choos & a Baby Too.
Today is TV Shows! Fun!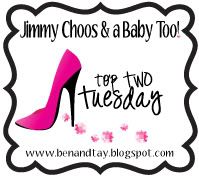 Criminal Minds, its me and the mans favorite favorite! We love it, its been on air for awhile but there are brand new episodes every Wed. on CBS @ 9 that you must watch this show is intense! Old episodes are repeated on other channels, and we pile those up in the recorded shows section because there are still so many episodes we haven't seen. I was never a fan of CSI or Law & Order really, I prefer drama shoes like The Kardashians. But I just got hooked on this one! Its not too scary or gory and theres always so many different storylines in each episode, its easy to catch on to one. Sometimes, BF figures out who the suspect is before I do and he'll spill the beans & say oh the brothers the one who killed him. But it doesn't even ruin the ending because this show is so good!
Real Housewives of Orange County. I don't know how you spend your Thursday nights but I spend mine drooling over the TV; 6 carat necklaces and mansions in "Coto". How I wish it was on more than once a week; these ladies just "wow" me! The things they wear, Lynne's daughters, Gretchen's laugh, Slade's nasty hair & the other husbands, oh I could just talk about this show for days!
And if I went on the list would include; 24, 30 Rock, Vh1 reality shows, and The Office. Anyone into Sons of Anarchy you should really talk to BF.
See what others posted for their Top 2 over at Taylor's !