Its Top 2 Tuesday over at
The Undomestic Momma
!
This week is names, such a fun topic! I'm always thinking of names I like but then I forget them so I cant wait to go stealsee what you all picked!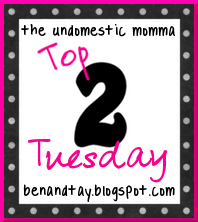 Top 2 Favorite Names
For A
Girl: Kora.
Did you not know Titanic is my favorite movie ever?! The scene where Jack and Rose are drinking and dancing down in the lower deck, theres a little brown haired girl and Jack says to her "your still my best girl Kora!" Aww she's adorable and I've always saved that name in my head because its adorable! I really like the name Lily too.
For
A Boy:
I like Aidan, Ethan and Owen,
but really not sure any of them would be my final answer ha.
For some reason boy names are harder for me to think of haha but I like unisex names and names that can be shortened into a good nickname you know.
Its possible I'm the most indecisive person in the world, so when the real time comes time to pick a baby name its really gonna be a process. My dog had another name for awhile before I finally settled on "the one." The vet probably laughed when I asked the records be changed ha.