Time for Top 2 Tuesdays brought to you by the ever so lovely Taylor at
The Undomestic Momma.
This week its...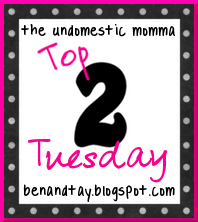 Top 2
Things You Cant Live
Without.
(besides family, friends, food, necessities.)

1.

Bedding.

I wouldn't. I couldn't. I don't know what I would do without a bed and some blankets. Sleeping is one of my favorite things to do and a good bed is needed to do it in. And soft blankets. Soft blankets on a bed. Its like
rainbow sprinkles on ice cream, the very best part. I just cant not sleep in a bed.
(This was a problem when I was in high school and on a spring break trip with 8+ girls. I don't know, I guess they got tired of me always getting to sleep in either of the 2 beds available heehe.)
At the end of a long day, a cozy bed is exactly where I want to be.
2. Soda. Do you know how not good it is for you? Yeah. I do. But do you know how good it tastes?
Yeah! I do!
I love Cherry-anything but my heart belongs to old faithful Dr Pepper.
♥ Cant wait to see all the other Top 2 picks! This was a hard one! Computer, camera, TV, leggings & boots, soap and razors, jeez theres so many things I would "not like" to live without lol!