Top Two Tuesday-Stores!

(@ taylor's blog,
the undomestic momma
)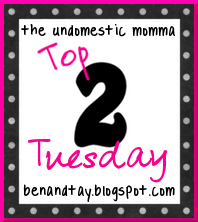 #1. Target. And the dollar section is my favorite part. Besides the grocery store, I do
n't shop
anywhere
on a regular basis, I don't have it
like that.
Unfortunately right now I'm a
not rich
college student that needs to pay for drivers license renewals,
parking ti
ckets
, bills and other
fun
stuff before a new spring wardrobe. But Target is the place I'd first go if I had some shopping money. I can always
always
find something there, which can be a bad
and
good thing, I hate when everything fits and I want it all but have to narrow it down. Such is life! But Target tank tops are
the best
I have a rainbow of them in my closet. And their summer dresses, flats, sandals , my favorite red zip up,
I love!
Usually their very reasonable but I have been bummed out by a couple 40$+ price tags on a dress I thought would be less.
Hey
does anyone ever buy snacks at Target? I haven't ate anything from there since I was little and shopping with my Mom, but
everytime
I'm in the store, the popcorn smells
sooo good
and I think real had if I should buy just a
small
bag. But I
never
do lol.
2#. Victorias Secret. I'm
such
a fan! And by that I mean I get all their catalogues and happily, loyally look at
every
page. But I
never
order anything
(ordered a swimsuit a couple years ago that's it).
I shop in the store for bras and underwear yes, and everyone knows
I love
presents from there especially their Pink! line. But with their catalogues I like to play
"what if I had alot alot of money and I could order whatever I wanted"
and point to all the undies, pajamas, boots, dresses and everything else I'd buy. Its
really
fun,
good
mail=
good
entertainment. Oh and
yes
I do live in my
miraculous something.
(honorable mentions: american eagle, macys, nordstrom/rack)